Week 1
We arrived in London on Saturday 27th September and were greeted by our tour company FFI and EPL Sports and made our way by coach to our first hotel at the Madjeski Stadium which is home to Reading FC. The boys were amazed to see that our hotel was part of the stadium! After dropping of their bags we went into the picturesque city of Windsor and stretched our legs around the historic city as well as taking the squads to Windsor Castle.
In the evening we were delighted to welcome Reading FC player Ryan Edwards who was hugely influential in organizing our time at the club. Ryan had dinner with us and spoke to the boys about his experiences in leaving Perth to come and play in England. He is a wonderful role model and inspired the boys with his obvious love of the game and hard work ethic.
Our first game of the tour was against Reading FC Academy teams who are regarded as one of the best in England and have EPPP Category 1 Status which only 19 other clubs in England have. It was an honor to be the first team from Western Australia to play against them and we were welcomed by all of the staff and enjoyed every minute of the experience.
Each of our squads played games on modified pitches (5v5, 7v7 or 9v9) with modified age specific goals on a superb 4G synthetic surface. All of the parents stood and watch from the behind the fence, no shouting from coaches or parents allowed the players to be free and express themselves. All 3 squads were excellent and represented PFT in a top class manner which their parents would have been extremely proud of.
Following the matches and lunch we then made our way to the first professional match of the tour to watch Reading FC play Wolverhampton Wanderers. Not only did the players watch the game but they were asked to be flag bearers and greet both sets of players onto the pitch – the look on their faces when they were asked to go onto the pitch was priceless.
The game itself was end to end action and a typical English game with high intensity play and entertainment. Many of the Reading FC Academy graduates played which is testimony to the environment they have created for the young players. The final score was 3-3 and an enjoyable experience for all of us. After the game we were delighted to meet PFT Graduate, Kosta Sparta, who was on trial with Reading FC. Kosta attended our 2011 Tour and had recently been doing some 1on1 sessions with us to prepare for his trial. It was wonderful to see him so happy and enjoying his time with the club. Kosta and his family had dinner with us in the hotel later that evening.
Following the match and a brief rest the players walked across the road to Reading FC Academy and had their first training session of the tour with the Academy coaching staff. The coaches were excellent and engaged the players in a positive and fun manner which was befitting of how the club operates. Our Goalkeepers spent time the Goalkeeper coach before joining the squads in game centered practices. Following the sessions we had a Q and A and then took a very tired group of footballers back to the hotel for dinner and an early night!
Day 2 started with a walk and then breakfast with the Reading FC Academy coaches before departing on our coach for London and a tour of Chelsea FC's Stamford Bridge and the PFT Directors left for meetings with Fulham FC Academy Director, Huw Jennings, at the picturesque training ground at Motspur Park.
Fulham FC were wonderful hosts and made all of us feel so welcome. Mark and Barry spent 2 hours with Huw and were introduced to all of the staff at the training ground and believe the club have created a world class training environment for Academy and Professional players to train and learn in. Huw Jennings was influential in the development of great players such as Gareth Bale and Theo Walcott when he worked at Southampton FC and also set up the Nike Football Academy.
When the players and parents arrived at the training ground we were given an Academy Presentation from former Fulham FC player and now Academy Coach, Kevin Betsy. Kevin spoke of the importance of been a great person, having high personal standards and striving to reach your potential.
Our U13 Squad then played a 9v9 game against the Fulham FC Academy and our other squads had a training session with Academy Coaches and all enjoyed another great learning experience. We were delighted to see PFT Graduate, Cameron Burgess, who is now in his third year with the club and flourishing in the environment. Cameron spoke to the players and parents and we are very proud with how far he has progressed since attending Pro Football Training. He presented us with a 1st team shirt which we were honored to receive. Adam Taggart (former Perth Glory and Newcastle Jets as well as Australian World Cup 2014 player) also spent time with the players and inspired them all.
In the evening we welcomed Nick Levett for dinner before he presented to the players and parents. Nick is the English FA National Development Manager and is responsible for the development of youth football in England for 5-18 year olds. He has a major influence in how the game looks for the future of children. However one of his biggest challenges is to influence and change the mindsets of adults involved in football.
Nick gave an amazing presentation on the role of a parent and coach to develop children and make football a fun and positive part of their lives. The players opened up to him and some of the discussions highlighted the issues we face here in Western Australia which is detrimental to the players and stifling their development. It was a fantastic presentation and one of the many things that Nick said which we hope to educate on the coaches and parents was:
"Adults need to understand what it was like to be a child again, to feel the exhilaration of playing a game, taking part in sport with your mates and meeting new people. That's what the game is about and why they take part. They don't like adult's over-emphasis on winning!
We need to encourage the development of play, where child can explore, be creative, learn about taking risks and going through the process themselves. We can't shortcut this. Of course, there are different challenges in the modern society we need to be aware of and it isn't about just letting the kids go off and do whatever they like. But it's also about allowing the beauty of the unstructured to help children develop their imagination.
One of the biggest things modern business say they want is creative thinkers that are problem solvers and decision makers – the beauty of sport is we can help foster these skills as long as the coach doesn't solve all the problems for them!"
That was the end of Day 2……….we had only just started our tour!
Day 3 started with a walk and then breakfast followed by a team meeting before our journey to England FA's new world class training facility, St Georges Park, which is located in Burton. Words can not really describe this place so please watch the footage and make your own mind up on what we all had the pleasure of living at for 3 days…
On arriving at St Georges Park, we were delighted to meet up with Football West Referee's Eddie Lennie, Dave Currie, Matthew Cheeseman and the rest of the Tour Group who had spent time training and learning. We also introduced everyone to a good friend of ours, Jesper Olsen, who has brought a tour group to England from Melbourne.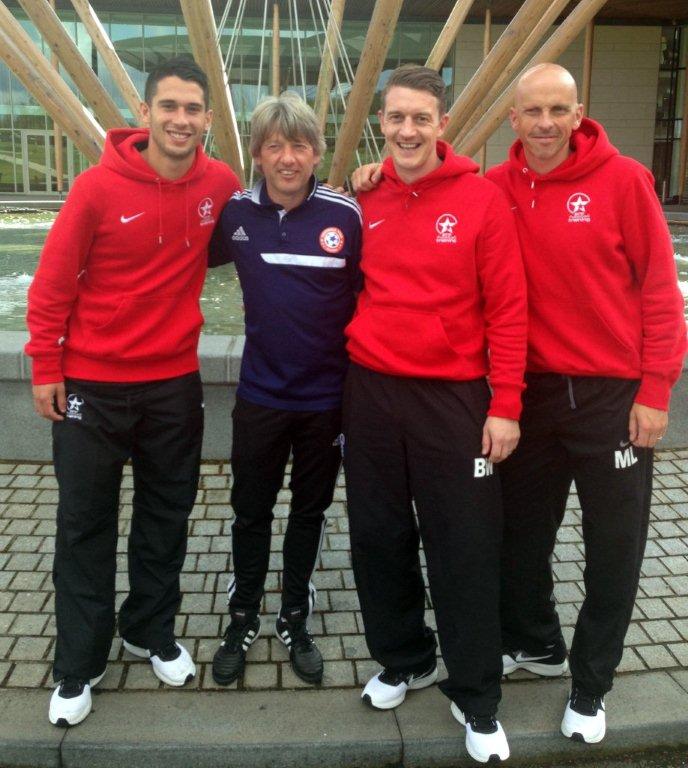 Jesper spoke to everyone about his experiences for Ajax, Manchester United and with Denmark in the World Cup and European Championships. A wonderful man who also did this with a guy called Johan Cruyff!
Our time at St George's Park was an unforgettable experience and one we hope to replicate on future tours. We met up with Lewis Dickman who recently worked with Sunderland AFC and was heavily involved in helping us organise our tour as well as provide PFT Graduates with the opportunity to trial at the club. He now has a role with the English FA.
Mark had the pleasure of meeting Dave Alred who is a famous sports coach. He spoke to Mark about many aspects of coaching and again like all of the great people we meet, wanted to share ideas and was very interested in the work PFT do in Australia.
Dave Alred – Performing Under Pressure
The players then settled in their rooms before jumping on the coach for what they thought was going to be a trip to Sport's Direct Sports Store in Manchester……instead we arrived at The Etihad Stadium to watch Manchester City play AS Roma in the Champions League.
This experience was amazing and to see players such as Francesco Totti, David Silva, Yaya Toure, Sergio Aguero, Vincent Kompany, Frank Lampard, Maicon and Gervino was superb and again an experience many in Australia will ever be able to experience.
Day 5 started with a walk and then breakfast in the same dining hall which England and recently Barcelona had ate their porridge and corn flakes in! We then had a recovery session with Perform SGP who are in charge of all the physiotherapy and rehabilitation of players.
The players were taken through a range of recovery sessions include cold and hot pools, treadmills under water and a swimming pool with a moveable floor! Just another highlight for the players and an experience they will never forget and hopefully add to their training regime in Perth.
The afternoon was spent at Sheffield United who opened their doors and welcomed everyone into their environment at The Academy and the PFT squads had training sessions followed by games against the Academy. It was another learning curve for the players who were now adding physical toughness and grit to their undoubted football ability. We are grateful to Adam Pillingand John Dungworth and their staff for making it another memorable experience.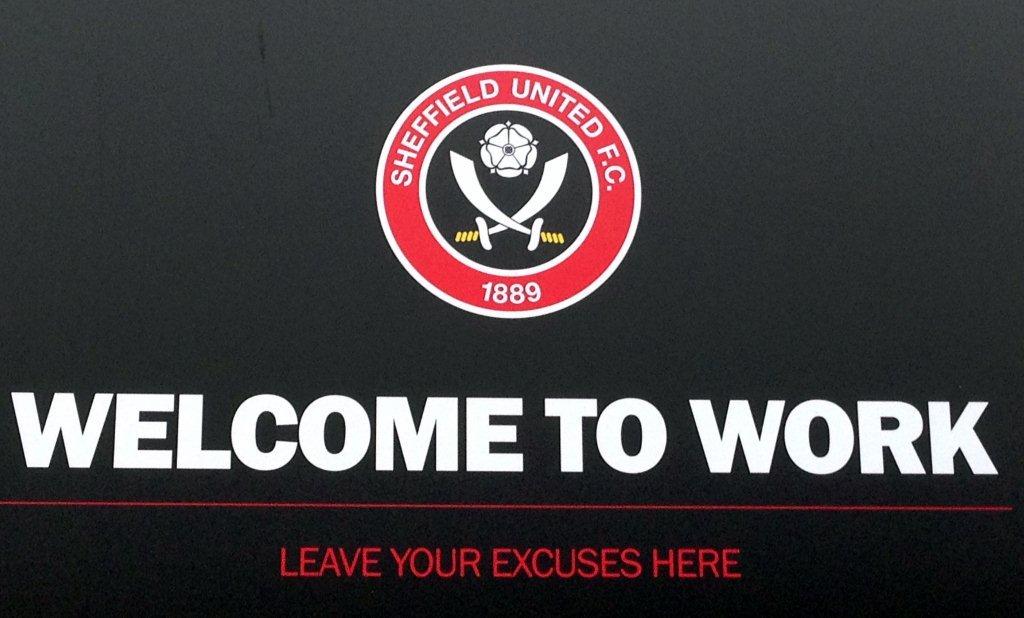 Day 6 started with a walk and then breakfast before the players packed their bags to depart. We had our final training session at St Georges Park on the 'David Beckham' pitch with the England FA Coaches. PFT Guest and current Birmingham City U12 Academy coach Karl Aust, spoke to the players.
Hopefully we will have the opportunity to spend time or play against Birmingham City on our 2016 Tour Karl is someone who we would love to work with. We then said goodbye to St Georges Park and all of the wonderful staff.
We will be back, hopefully many more times!!!
We arrived in Manchester and headed straight in for dinner with PFT friend and our guest for the evening, Mick Priest, who was recently on the coaching staff when René Meulensteen was Manager at Fulham FC. Mick spoke to all of the players and parents and shared his experiences working with some of the best players in the world at Manchester United.
Day 7 was spent at the very impressive National Football Museum which consists of everything you need to know about football from memorabilia to interactive football sessions. The players in particular enjoyed the penalty shootout with Casey Robertson and Mark Lee the victorious duo – not that it's about winning!
We then went to Old Trafford and experienced the culture and history of Manchester United. Photos were taken, stories were shared and money was spent at the club store!
Following the tour we travelled to play against Preston North End and were delighted to welcome PFT Graduate, Zak Gilsenan, who played with our U13 squad. It was fantastic to see Zak again and the boys enjoyed hearing about his experiences living in Spain and playing for Barcelona!
Zak Gilsenan Joins Tour Squad at Preston North End
Day 8 started with our departure from the Manchester Hotel and a trip to Liverpool FC Academy to watch their U16 and U21 teams play against Manchester City. We were delighted to return to the Academy having first experiencing it on our 2011 tour. The parents and coaches showed their age when walking past the likes of Steve Heighway, Kenny Dalglish, Joe Corrigan and recognizing them!. The players then spotted Michael Owen and had a photograph with him.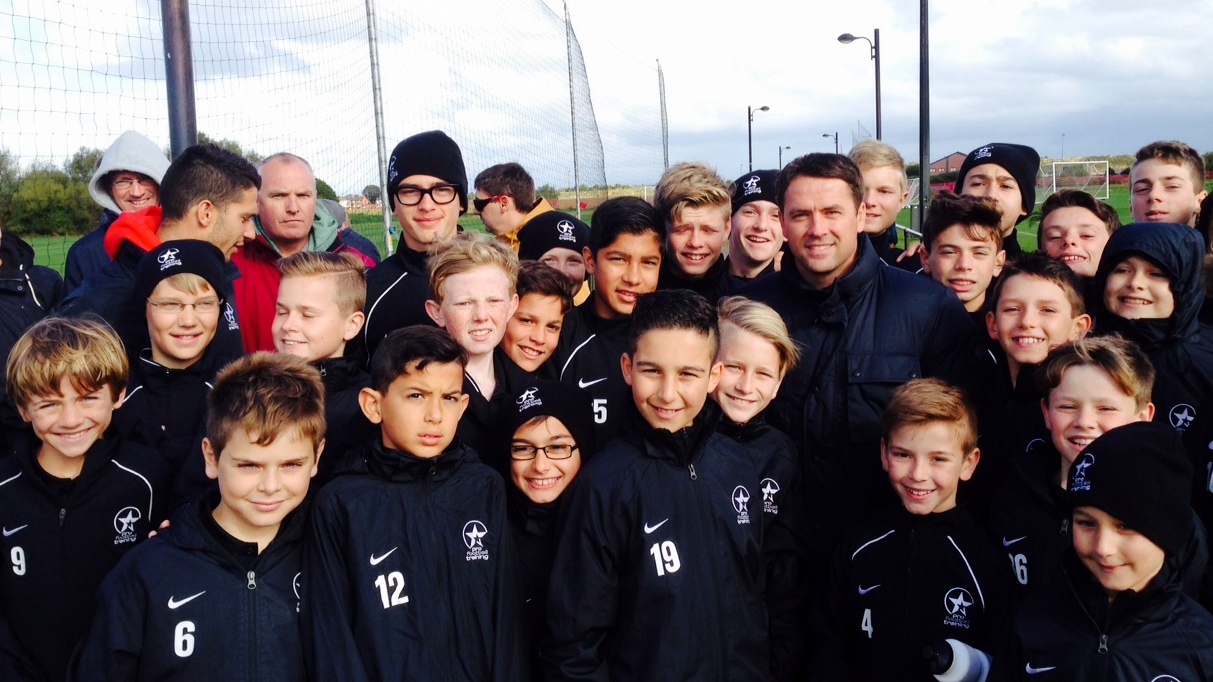 The games were a wonderful insight into the level of youth football in England with some future world class players on show. The standard was exceptional and we are sure many of the players will grace the EPL and International Stage in the no too distant future. Following our time at the Academy we then went to Ewood Park to watch Blackburn Rovers play Huddersfield Town. Although the game did not live up to the same excitement as our time at Etihad it was still a great learning experience for the players and highlighted that you can play all over the world at many different levels.
Week 2 was soon upon us and we spent the final part of the tour in the historic cathedral city of Co. Durham which is situated in the North East of England and a hot bed for football. The game is a way of life in England and no more so than this part of the world where many top class players we brought up and learned their trade there.
On Sunday morning we were invited to the Academy of Light at Sunderland AFC to watch their Academy sides play Rotherham United and Hartlepool. Another wonderful learning experience where the PFT players and parents could see at first hand the level of players in the same age groups and how quiet and reserved the parents and coaches acted on the sidelines!
Sunderland AFC and their staff are amazing hosts and the access we receive is always of the highest standard. Academy Director Ged McNamee and Elliot Dickman are wonderful hosts and we look forward to many more years visiting and working with the club to offer many opportunities for the PFT players. The Academy shared all of their philosophy and made us feel part of the club which highlights why so many youngsters progress into the first team.
On the Sunday evening we were delighted to introduce former Sunderland AFC Academy Coach and current English FA Youth Coach Educator, Lewis Dickman, who presented to the players and parents on his time with the Academy, his current role working with Newcastle United, Bradford City, Carlisle United, Sunderland AFC and Everton.
Lewis also provided a first class presentation on current Liverpool FC and England player, Jordan Henderson, who Lewis coached from the age of 8. The insight provided highlighted the traits of a top player, the importance of sensible parents who are there to guide and offer support when needed and the fact that 'hard work beats talent when talent does not work hard'.
Lewis's engagement of the audience was excellent and the way he related to the boys was wonderful to see.
The following day was spent with Newcastle United and a tour of St James Park, followed by a highly professional and engaging presentation from Neil Winskill. In the evening we were guests of local club, Consett AFC, who have recently opened a excellent facility and 3G football pitch. Consett is Mark's home town and the welcome we received was a major highlight of the tour. PFT coaching staff organised the players into small sided games and to see 75 players from different parts of the world compete and play together was something we are very proud of. We hope to do the same on our 2016 Tour and maybe one day welcome the players and parents of Consett AFC to Perth!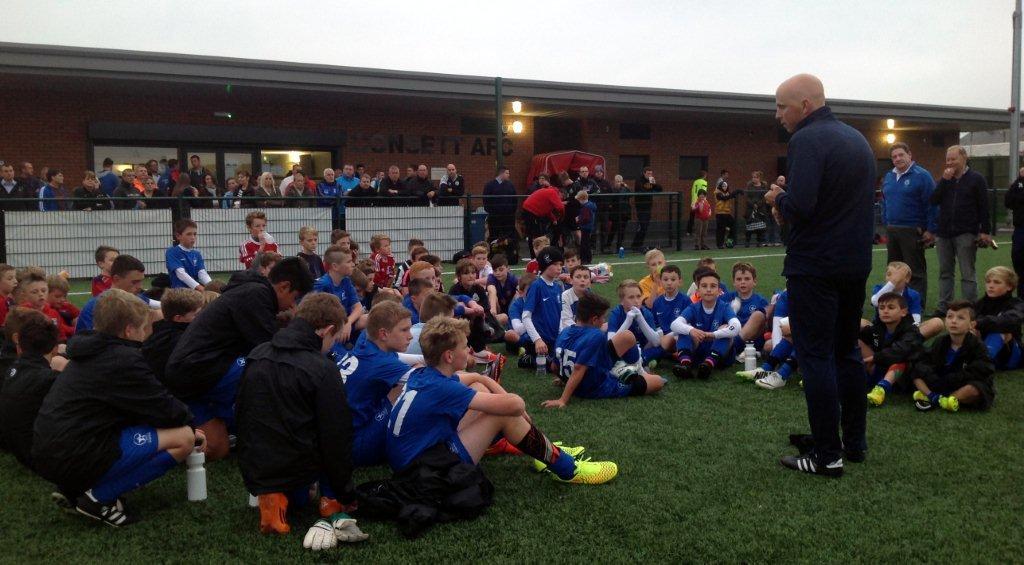 After our time at Consett AFC and dinner at the hotel we once again welcomed a good friend of PFT, Ben Clark, who is a former England Youth Captain and Manchester United, Sunderland and Hartlepool professional player. Ben is the current captain of Gateshead FC who are a full time club playing in the Northern Conference which is one league below League 2. Ben has presented on our previous tours and always gives a superb insight into the highs and lows of his career. We predict a very bright future for Ben as a coach once his playing days are over. His love of the game, sense of humour and engagement of people will be an asset to any club, we hope to welcome him to Perth one day too!
The following evening we took the older group to watch Ben play for Gateshead against Alfreton Town at the Gateshead International Stadium. This gave the PFT players another insight into the opportunities and the high level of football played at non-league level where many players are full time.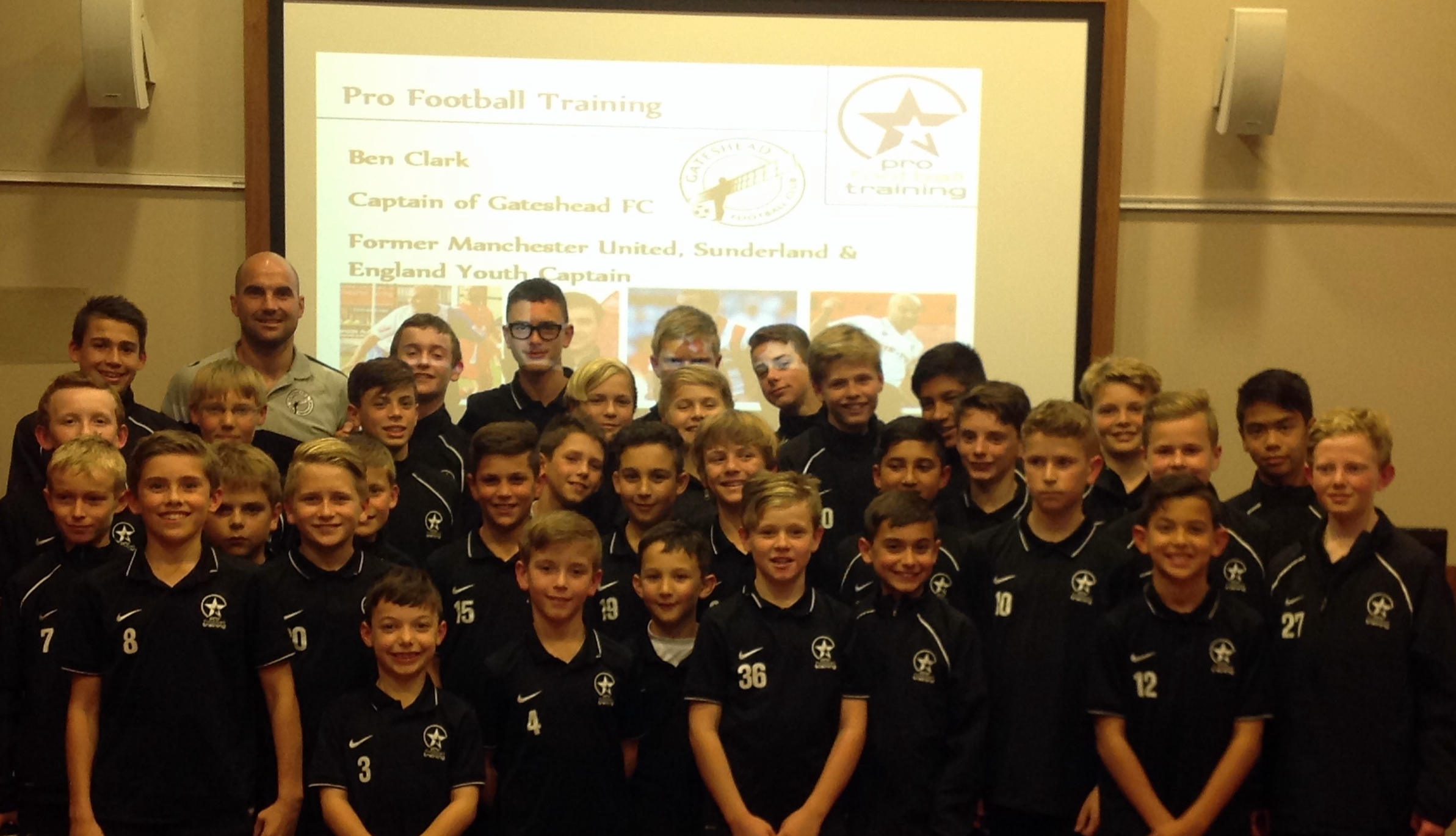 The final part of our trip was spend with Sunderland AFC and the wonderful staff at the Academy of Light. PFT Graduate Tom Beadling and his parents were our guests for dinner at the hotel and it was superb to see how much he has developed as a young man and grown in confidence. Tom spoke to the players and parents about his experience as a professional footballer and his time spent with Pro Football Training. We are so proud of all he has achieved and how much of role model he is for all the youngsters.
Our tour was drawing to a close and as always we finished off with another top class experience at Sunderland AFC with training sessions and games against the Academy. The players were superb and conducted themselves in a wonderful manner against some excellent players who have huge futures in the game. PFT Graduate and soon to be Sunderland AFC player, Jacob Young, who has previously attended our UK Tours was there to watch the boys play.
The final day was spend with the SAFC Foundation and special thanks to Ian Dipper for organizing the small sided games day. Ian is a huge supporter of PFT and we hope to welcome him to Perth soon.
Special thanks go to the following for making the Pro Football 2014 UK Tour such an amazing experience: