On Saturday 17th December PFT partnered with Realmark Commercial for the annual 4v4 Futsal Tournament.
There were 223 games, 411 goals scored & 1100 in attendance!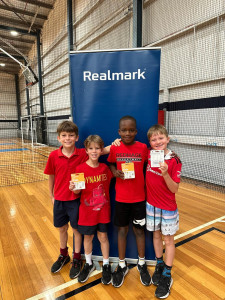 Former A-League Champion and Realmark Commercial Director of Sales and Leasing, Brent Griffiths, was delighted with the event:
"Realmark Commercial were proud to sponsor Pro Football Training's 4v4 Futsal Tournament. It was an incredible day, and fantastic to see so many young people come together to experience the joy that football can bring. I hope the players got a thrill out of newly signed Perth Glory star Adam Taggart's appearance!"
"It was an honour to align with a great company doing wonderful things in the West Australian community."
To find out how Realmark Commercial can help you kick your property goals, click here or call (08) 9328 0999.
Have a wonderful festive period.
Merry Christmas